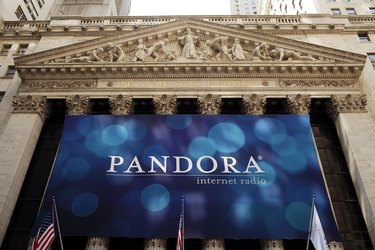 Pandora's self-described Internet radio relies on hundreds of tags and classifications through their Music Genome Project to determine automatic music recommendations based on a listener's tastes. These preferences, as well as any personally created radio stations, are saved to the user's account, and the stations can be accessed on any of the various devices that can stream Pandora's music library.
Computer
The original source for Pandora Radio was through the interface on their website, and this interface is still a common option for enjoying the service. Users have full access to their profiles, and the site allows them to easily create stations, add artists to stations, bookmark songs, and connect and share with social media networks like Facebook.
Smartphones
Official Pandora mobile applications are available for all of the major smartphone operating systems, including Google Android, Apple's iOS and BlackBerry. The apps provide much of the same functionality as the Pandora website, allowing full access to the user's created stations and the ability to make new stations. Each app is specialized to suit the aesthetic and interface of the individual device. For example, the iPhone/iPad and Android apps support touch-screen access, but this is not mandatory for the BlackBerry app.
Home Entertainment Centers
Several Internet-enabled television sets and Blu-ray players from Panasonic, Sony and Samsung offer the ability to connect to your Pandora account and stream your stations through the speakers on your home entertainment center. Additionally, digital media devices such as the Roku or the Boxee Box stream Pandora, as well as their typical video streaming content from YouTube, Hulu and other channels. Check the complete list of compatible devices at the Pandora website to see if your HDTV, digital media hub or Blu-ray player supports Pandora playback.
Table-Top Devices
Other Internet-ready home devices are compatible with Pandora. For example, Grace, Livio and Sangean Internet radios can connect to your Pandora stations for docked streaming or external speakers. Additionally, Wi-Fi tuners such as the Rotel Hi-Fi and the Logitech Squeezebox stream Pandora. Tablet radios like the HP DreamScreen and the Sony Dash play music from Pandora, as well.