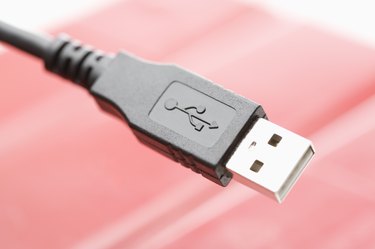 Magnavox high-definition televisions (HDTVs) feature several different input ports including composite video, component video, HDMI and universal serial bus (USB). Each connection allows your Magnavox HDTV to connect to different media devices. The HDMI cable displays audio and video in HD, while the USB port can connect to USB-storage-devices to play media files on your HDTV.
USB Devices
The USB data port became commonplace with the dawn of the Windows 98 operating system. Since then it has become a standardized computer-device interface, used for connecting digital cameras and camcorders, input devices and other computer peripherals such as monitors and modems to your computer. The USB port has also become integrated into video game systems and TVs to connect TVs and gaming devices to your MP3 players, digital cameras and USB-storage-devices.
Pictures
Digital photos saved in the JPEG format can be displayed on your Magnavox HDTV from a USB-storage-device. To view JPEG files, turn on your HDTV and plug the USB-storage-device into the USB port on the back of your TV. The main menu will appear as soon as you plug the USB device in. Select the "USB" option and select "Picture." A slideshow will start automatically. You may start or stop the slideshow by pressing the "4" button, and adjust the photo quality by pressing the "1" button, select from a list of photo transitions by pressing the "2" button and changing the amount of time that photos are displayed by pressing the "3" button. Your Magnavox HDTV will display photos up to 24 MB in size.
Music
Your Magnavox HDTV can playback mp3 audio files on your computer in a similar way to displaying photo slide-shows. After inserting the USB-storage-device, select the "Music" option from the "USB" menu. Select the audio file that you want to start listening and press "Ok." You can toggle song and artist information on and off by pressing the "1" button during playback. Pressing the "2" button will repeat a song continuously, while pressing the "3" button will shuffle your music.
Updating Firmware
Occasionally firmware, the internal operating system for your HDTV, may become out-dated or corrupted and can be updated via the USB port. Because updating the firmware of your Magnavox HDTV requires specified knowledge about your TV and its operating software, only certified Magnavox technicians have access to firmware upgrades.