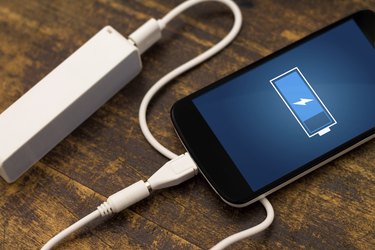 Sharing an Internet connection between multiple devices can cut down on your monthly Internet bills. It's also just plain handy if you have only one device with a data connection. Take advantage of the Personal Hotspot feature on your iPhone to share its cellular data connection with other Wi-Fi-enabled devices, including your computer.
Enabling Personal Hotspot
Before you can connect your computer to your iPhone, first verify that Internet tethering is available through your wireless provider. Check your contract or contact your wireless provider. Most providers charge an additional fee to enable Personal Hotspot functionality.
Once you've verified that tethering is active on your phone, enable Personal Hotspot on iPhones running iOS 8. This procedure is slightly more complicated than in previous versions of iOS. Tap the "Settings" icon on the iPhone's home screen, select "Cellular," tap "Cellular Data Network" and toggle the "Personal Hotspot" button to the On position. You may need to scroll down to locate the Personal Hotspot button. Enter an identifying name for your hot spot in Username field under the Personal Hotspot heading. Tap "Cellular" in the top corner to save your changes.
Configuring Personal Hotspot
Once you've enabled Personal Hotspot, the feature is available directly in the Settings app. Launch the Settings app and tap "Personal Hotspot" on the main menu to configure its options. Tap "Personal Hotspot" again and then toggle the "Personal Hotspot" button to the On position. The password for connecting your computer to your iPhone is displayed next to the Wi-Fi Password heading. If you want to change this default password, tap it and enter a new one.
Connecting Your Computer to Your IPhone
Now that your iPhone is set up and broadcasting its Personal Hotspot signal, it's time to connect your computer. Point your mouse to the bottom-right corner of your Windows 8 computer screen and select "Settings." Click the "Network" icon, locate your iPhone's Wi-Fi network and click "Connect." Enter your iPhone's Personal Hotspot password in the provided field and click "Next." Your computer is now connected to the Internet through your iPhone.
Understanding Data Overages and the Consequences of Jailbreaking
Most modern websites detect when you're viewing them through a mobile device, such as an iPhone, and adjust accordingly to reduce load times and data usage. When you access the Internet on your computer through your iPhone's Personal Hotspot connection, however, most websites will display the full broadband version. As a result, if you use Personal Hotspot frequently, you may find you quickly burn through your iPhone's monthly data plan. Watch out for data overages in this situation. Most cellular providers charge you for each megabyte you exceed your monthly quota.
If you elect to jailbreak your iPhone rather than paying to add Personal Hotspot functionality through your cellular provider, you run the risk of voiding your warranty.