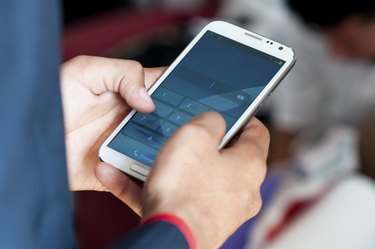 WhatsApp is a multiplatform smartphone messenger service. If you have the app on your smartphone, you can send text, image, video and audio messages to other users of the service via your phone's Internet connection. When your friends or family members install the app on their phone, you can add them to your list of WhatsApp contacts.
Adding the Contact to Your Device's Address Book
The easiest way to add someone to your WhatsApp contact list is to first add her phone number to your device's default address book. WhatsApp uses your phone's directory to update the app contact list. Once the new contact is added, you can refresh your WhatsApp contact list from within the app itself.
Viewing the New Contact in WhatsApp
For Android devices, open WhatsApp, then tap the chat icon to display a list of your contacts, including the name of the person you just added to your phone's default address book. Select the contact from the list to begin a chat session.
For Apple iOS devices, tap "Favorites" from within the app. Use the "pull down" swipe motion on the list to refresh your favorites and display your new contact.
For BlackBerry 10 devices, select "Favs" to view your updated list of your phone's contacts from within WhatsApp.
For Nokia S60 phones, select "Favorites, then tap "Options." Select "Refresh Favorites" from within WhatsApp.
For Windows Phones, swipe the screen to reach the "Favorites" page from within the app. Tap the three dots on the screen menu, then tap "Refresh."