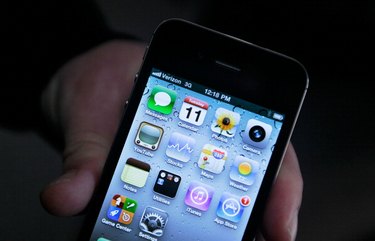 Making a three-way phone call, also referred to as a conference call, on the Apple iPhone allows you to speak to multiple people at the same time. Whether you want to have a brainstorming session with colleagues or catch up with a few friends, conference calling saves you the hassle of having to make multiple phone calls to relay a message. With conference calling, all parties can hear each other, unless you put someone on hold.
Step 1
Tap the "Phone" icon on your iPhone's home screen, and initiate a phone call. You can have your device automatically dial the number of a contact by tapping his name in the "Contacts" menu or manually dial a number by tapping "Keypad."
Step 2
Wait for the call recipient to answer. Once the first recipient is on the line, pull the iPhone away from your face -- the phone's call menu will appear.
Step 3
Tap "Add Call." The first call recipient is placed on hold, allowing you to initiate the second phone call. Use the "Contacts" or "Keypad" icon on the bottom of the screen to make the second phone call.
Step 4
Tap the "Merge Calls" icon from the call menu once the second caller picks up. You and both call recipients merge onto the same line.