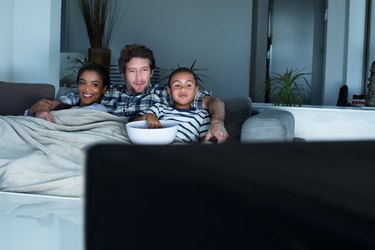 The Bluetooth protocol standardizes how wireless devices communicate with each other across short distances. It has played a large role in the wireless revolution in consumer electronics, allowing everything from smart phones to video game controllers and headphones to be untethered from wired transmissions. Over the past few years, many manufacturers have started to include Bluetooth capabilities in their television sets. If you own a set that doesn't have built-in Bluetooth, you may be able to connect with a Bluetooth TV adapter.
Add Bluetooth to TV
There are a wide range of Bluetooth TV adapters available in electronics stores and on Amazon, with correspondingly wide-ranging prices. Most use an RCA connector, which is typically available on both digital and analog TV receivers. An RCA connector, which is also known as a phono connector, is a coaxial cable with three color-coded plugs that connect to corresponding jacks on the television. This type of cable was used in the past to connect VCR players to television sets. Some Bluetooth adapters connect through a 3.5mm audio jack that plugs into the TV's AUX-in port, so make sure you know which type of connector your TV has before purchasing an adapter.
Once a Bluetooth adapter is connected to your television, it should work just like built-in Bluetooth and can be paired with one or more Bluetooth devices. If audio is not streaming from your TV as expected after connecting an adapter, you may need to access the TV's settings from an onscreen menu and enable output to headphones or auxiliary speakers. Most Bluetooth adapters are recharged by plugging into a USB port. If your television doesn't have a USB port, you can recharge the adapter using another USB charger or an electrical outlet.
Possible Bluetooth Adapter Issues
Audio transmissions from Bluetooth devices are typically limited to less than 100 feet, which may limit the uses of a Bluetooth adapter. Some users who add Bluetooth to their TV to stream the audio to headphones or speakers report a noticeable lag in voice transmissions that can cause audio and video to be out of synch, so it's important to read user reviews before purchasing an adapter. An additional issue with Bluetooth adapter is that your television's audio may be muted when you transmit to wireless headphones or speakers, and you may have to disconnect the adapter to restore sound to the TV's internal speakers. One way to avoid this issue is to also stream the TV's audio to a Bluetooth sound bar or wireless speakers.