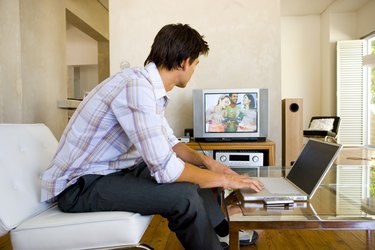 Bluetooth is a wireless standard for exchanging data over short distances. Some modern PCs and televisions feature Bluetooth technology, allowing them wirelessly to connect to other devices in your home. Connecting your PC to your TV -- if they are compatible -- is a relatively simple process that should only take a few minutes. You might want to connect your PC to your TV via Bluetooth to control it from your desk, exchange files or display slideshows if your TV supports these features.
Step 1
Turn on both your PC and TV.
Step 2
Access your PC and TV Bluetooth settings and set both to "Discoverable."
Step 3
Use your PC to search for Bluetooth devices in range.
Step 4
Choose to connect to your TV when it appears on the list of devices.
Step 5
Check your TV, you may have to authorize your computer's connection before the PC can control or access information on the TV.