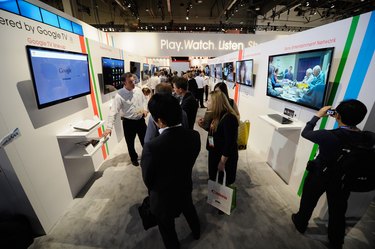 Many TVs can double as computer monitors, allowing you to show your PowerPoint business presentation to your audience. Using a TV instead of a projector provides several benefits, including easy setup and the ability to incorporate sound without the need for external speakers. You can show the PowerPoint presentation as a looping slide show, where people walk by the TV and stop to watch, or you can create a dynamic presentation you control with your computer.
Step 1
Examine the input connections on the TV and the output connections on your computer while both devices are turned off. The most likely compatible connections are S-video and HDMI, although some older computers might have RCA connections. Make sure the TV and computer have the same type of connections. If not, you will need an adapter to connect the two.
Step 2
Plug the proper cable into the TV and the computer. Turn on both devices.
Step 3
Click on the Start button on your computer and choose "Control Panel." Click "Appearance and Personalization" and then "Display." Windows 7 should automatically find the TV and list it as a second monitor. If not, click "Detect" to find the TV.
Step 4
Select your display option in the Multiple Displays drop-down list. To show a looping presentation on the TV only, not on your computer, select "Show Desktop Only on 2." To display the PowerPoint presentation on the TV and your computer so you can advance slides manually, select "Duplicate These Displays."
Step 5
Open PowerPoint and begin your slideshow.