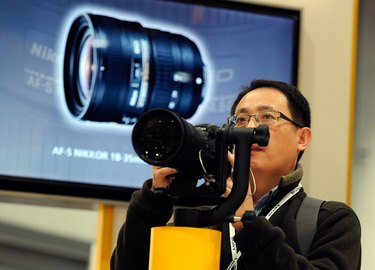 The Nikon D60, at the time of its release in 2008, was Nikon's smallest digital single-lens reflex camera, intended as an entry-level model similar in features and price to other manufacturer's 10-megapixel consumer camera offerings. As with most cameras geared to consumers, the D60 is heavily loaded with user modes that handle the technical aspects of exposure control for the photographer. However, the D60 does include ways to adjust exposure settings manually, including shutter speeds.
Understanding User Modes
The D60 has 12 exposure modes that are selected using the mode dial on the upper right of the camera. Four of these modes are considered advanced modes, while the remaining eight are point-and-shoot modes optimized for specific scene conditions. Only two of the 12 modes allow you direct selection of the shutter speed. Full Manual mode, selected with the "M" on the mode dial, or Shutter-Priority mode, selected with the "S," must be selected to allow direct adjustment of the D60's shutter speed.
Manual Mode
Setting the D60 to Manual mode permits access to both shutter speed and aperture size setting. The shutter speed can be adjusted from 1/4000 to 30 seconds using the command dial in the upper right corner of the camera back, easily operated with your thumb. Shutter speed can also be set to "Bulb," where the shutter remains open as long as the shutter release button is held. Using an optional wireless remote control converts the Bulb setting to a time mode of up to 30 minutes, where the shutter release on the remote control opens the shutter with the first press, and closes it with the second press. You must adjust the aperture manually as well, to create an exposure combination suitable for the scene.
Shutter-Priority Mode
Shutter Priority is a semi-automatic mode that allows you to choose the shutter speed, while the camera's meter controls the lens aperture to ensure proper exposure. As with Manual mode, shutter speed is adjusted by rotating the command dial, verifying the setting on the D60's display. Generally, slower shutter speeds emphasize or imply motion by blurring moving objects in the scene, while higher shutter speeds freeze motion. Lenses may have different aperture ranges, limiting the range of shutter speeds that result in proper exposure for any given scene.
Exposure Compensation
Shutter speed can be indirectly adjusted using Aperture-Priority mode by way of exposure compensation. When the camera is set for aperture priority, exposure compensation is accomplished by altering the shutter speed to maintain proper exposure. A rule of thumb is to add positive compensation when your main subject is darker than the overall scene, while adding negative compensation when your subject is lighter than the overall scene. Exposure compensation is adjusted by pressing the "+/-" button while rotating the command dial clockwise or counterclockwise. Be warned that the D60 maintains the exposure compensation setting until it is manually reset.