Touch screen devices abound in today's technological world. Smart phones, PDAs and personal gaming systems all employ touch screen technology. Yet, users have a complaint in common: fingerprint smudges. Touch screen users often must clean their screens to remove the oily prints that cloud the surface. Fortunately, manufacturers have made accessories to combat fingerprint problems and prevent you from experiencing a smudged screen.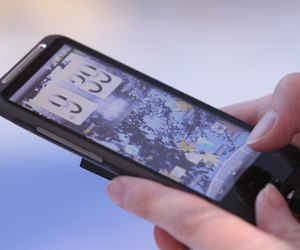 credit: Sean Gallup/Getty Images News/Getty Images
Use a Stylus Pen
Step
Purchase a universal stylus pen, or one that is specifically designed for your particular touch screen device. Clean the touch screen with a microfiber cloth to remove all fingerprints or dust.
Step
Use the rubber end of the stylus pen, just as you would your finger, to select features, change screens or scroll on your device.
Step
Carry your stylus pen with you in your purse or pocket so that you will have it available when you want to use your touch screen device.
Purchase a Screen Protector
Step
Purchase a screen protector that is compatible with your touch screen device. For example, if you have a smart phone, you have the option of purchasing a skin with a clear protective display cover or a screen protector that adheres to your touch screen device.
Step
Wipe your phone clean of dust and fingerprints with a microfiber polishing cloth.
Step
Put your phone in the skin or adhere the screen cover to the device by following the manufacturer's instructions.
Use Phone Fingers
Step
Purchase a 10 piece set of phone fingers in the size that you require. Clean the screen of your touch screen device with a microfiber cloth.
Step
Place a phone finger on the tip of each of your fingers and gently unroll the latex material down over your fingers to cover them.
Step
Use your protected fingers on any touch screen device without fear of leaving fingerprints.