An .NRG file is a proprietary type of "Disk Image" file---which is essentially a full copy of a CD burned onto your hard drive as a single file---created by the Nero Burning ROM CD/DVD burner program. Typically, these types of files would be saved somewhere on your hard drive. If, however, you prefer to make the .NRG file a little more portable, you can also save it onto a flash drive just as easily. Afterward, it can either be mounted in a virtual disk drive such as Daemon Tools or burned to a blank CD.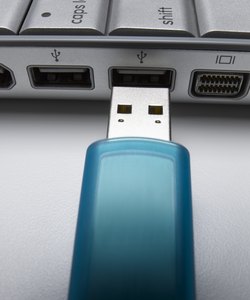 Step
Launch "Nero Burning ROM."
Step
Click the "Recorder" menu and select "Choose Recorder."
Step
Select the entry titled "Image Recorder," then click "OK."
Step
Click the drop-down menu labeled "Output Format" and select ".NRG."
Step
Plug your flash drive into a free USB port on your computer and select it as the "destination" when you are prompted by Nero to select where you want to save the .NRG file.
Step
Click "Go" to start the burning process. Once it is finished, the .NRG file will have been copied to your flash drive.