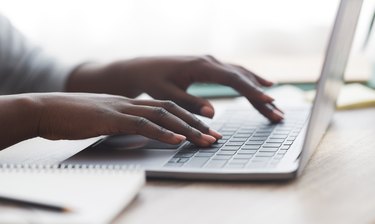 Spend any time on Facebook, and eventually, it starts to look like an endless scrolling text. Making sure your posts stand out can be tough, even if you post an image with your text. You can stand out a little by changing your Facebook logo font, but you need a third-party app to convert your text to something fun and unique.
Changing Your Facebook Logo Font
Changing the font on Facebook can liven up the experience a little. You can create a brand for yourself that makes your posts stand out in a sea of basic text. Using a third-party app, you can change every post to one in cursive, large or bold text. You can even switch up your posts so that they include fun emoji.
In some cases, though, you may want to use a Facebook font changer so that the text you see when you're scrolling through Facebook is different. If you want to enlarge the font so that you can see it better, there's a simple two-key combination you can execute to make that happen. However, if you want to make a more permanent change, go into your browser's settings. Doing so changes the font on every website you visit, though.
If you're interested in changing fonts on Facebook for your posts, you need a third-party app. Without an app, you are limited to the font Facebook uses to display everything typed into its text boxes. One of the most popular apps for changing the font of your posts is LingoJam, a site that offers a variety of translation tools.
To use the LingoJam Facebook font changer, go to LingoJam.com/FacebookFonts. Type the text you want to post in the window on the left and then choose from a variety of font options on the right. LingoJam provides a wide range of fancy fonts, including some that have emoji.
When you have your text in the Facebook logo font you want, copy it and paste it into the post box on your Facebook feed. The text shows as converted before you even select Post.
Change Font Appearance on Facebook
In some cases, changing fonts on Facebook means you want everything you see to be in a different font. Although you can change the font you see when you're on Facebook, this change isn't be limited to Facebook. It applies to every page you visit in that web browser.
To change the font style in Google Chrome:
Go to Settings by clicking on the three dots in the top-right corner of your Chrome browser.
In Settings, scroll down to Customize fonts under Appearance.
Choose the size and type of font you want.
Google Chrome has limited options, but you can at least see something besides the same basic font everyone who visits the site sees.
Change Font Size on Facebook
In some cases, you're looking for a Facebook font changer to make it easier to see the screen. In Google Chrome, this is as simple as pressing Control and the + key in combination. If you're on a Mac, press the Command and + key combination. Continue to press the + key while holding down Control or Command until you reach the desired size. To go back to normal, press View and Actual size on the Chrome menu.
To change the font size in Safari, execute the same Command and + key combination that you used in Google Chrome. If you clear your Safari history, your font goes back to the default, but you can easily enlarge it by pressing the key combination again.