The network address translation, or NAT, allows one IP address to serve as the identifying address for several computers and devices on a local network. In instances where you need to set up a server, you need to set the NAT type as "open" to allow connectivity to and from various ports. Another common reason to open your NAT type is for online game play on game consoles such as the PS3 or Xbox 360. When your NAT is set to strict, you will not be able to host a game, use voice chat or in some cases play at all. If you have an Internet phone service,you may not be able to make or take calls with a strict-rule NAT.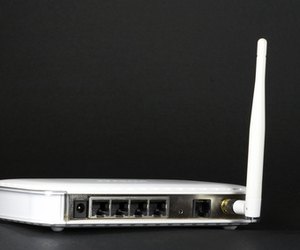 Step
Type "cmd" (without the quotes) in the Windows Search box. Select the Command Prompt to open a command window.
Step
Type "ipconfig /all" (without the quotes) and press "Enter" to execute the command.
Step
Look through the list of names until you see either "Default Gateway" or "IPV4 Gateway" and write down the numbers next those names. The numbers will look similar to "192.168.0.0."
Step
Open Internet Explorer, type the Gateway IP address in your address bar and press "Enter" to open your router's configuration page.
Step
Enter your router password. If you don't know the password, you may need to contact the manufacturer. However, for many devices, the default password is "admin."
Step
Click the "Administration" link on your router. Change the "UPnP" setting from "Disabled" to "Enabled."
Step
Click the "Save Settings" or "Save Changes" button at the bottom of the page. Exit your router configuration tool.