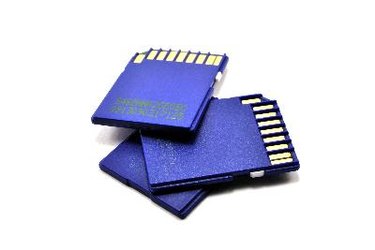 Every storage device, be it a hard disk, flash drive or Secure Digital (SD) card is marked with an identification number. In the case of an SD card, the host controller (the socket in your reader or computer) examines the device in order to construct its settings for that particular device. The hexadecimal number includes two digits assigned by the SD Card Association (SCA) and four digits that identify the Original Equipment Manufacturer (OEM). It is possible to view the ID number using your computer, but editing the digits requires a free software download.
Step 1
Download VolumeID from Microsoft. While Windows systems have the built-in capability to change disk (external or internal) labels, they cannot change the volume ID.
Step 2
Double-click on the zip folder and click "Extract All Files" at the top of the window that appears.
Step 3
Run the VolumeID executable. It is a command line program, so a black command prompt will open.
Step 4
Type volumeid xxxx-xxxx where "drive letter" is replaced by the letter of the drive where your SD card is slotted and "xxxx-xxxx" is the new ID number you'd like to assign.