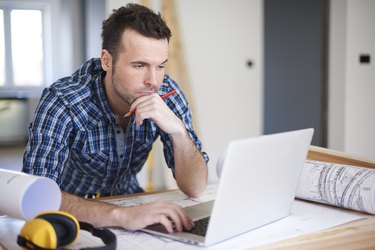 How to Change Mac IP Address. An IP address identifies your computer to the world. There are many reasons why you might want to change your IP address. You might want to connect to your company network and need to get access behind its firewall. You might want to run your own email server. Your ISP's tech support might also want you to change your Mac's IP address when you are troubleshooting your Internet connection.
Check the IP Address
Step 1
Launch the Apple Menu. Select "System Preferences." Then click "Network Control Panels" and click "TCP/IP."
Step 2
Check the IP address in the list of connections. Your Mac has an IP address, and some of your electronic devices may also have their own IP addresses.
Step 3
Visit a website such as What Is My IP for a utility that reads your Mac IP address (see Resources below). It will automatically detect your IP address and provide it for you.
Change an IP Address Automatically
Step 1
Obtain a new IP address from your Internet Service Provider or Network Administrator. This step might not be necessary, as most broadband connections use dynamic IP addresses. This means that every time your Mac connects to the Internet, it will be assigned a new IP address. You might not need to do anything in order to change the address.
Step 2
Get the new IP address from your ISP, because if two computers have the same address, neither one of them will be able to connect to the Internet.
Step 3
Realize each computer connecting to the Internet must have its own unique IP address. Have your ISP assign one that nobody else is using or you will waste time trying to guess the right number.
Change Your Mac IP Address Manually
Step 1
Select the network configuration that has the green dot next to it, from the "TCP/IP" screen you opened before. This is your active connection and will probably be the "Built-In-Ethernet" option in the drop-down box. Then click the "Configure" button at the bottom of the dialog box.
Step 2
Click the "Configure IPV4" drop down menu next and choose "Manually."
Step 3
Type in your new IP address in the box under the TCP/IP menu. Simply delete the number that is in there and enter your new one.
Step 4
Click "Save." Your address has now been changed.
Things You'll Need
Apple Mac computer

Internet connection
Tip
Sometimes you will need to refresh the IP address on your Mac if you are having trouble with your Internet connection. To refresh it, launch the Apple menu, then click "Control Panels," then "TCP/IP" then "Renew DHCP Lease."