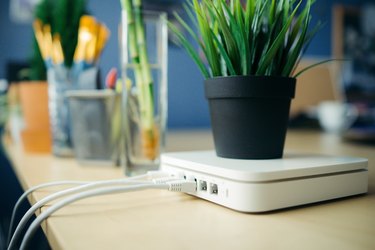 Checking router logs is surprisingly easily. It sounds like a potentially daunting task, but you can quickly access and check your router settings and logs with a web browser and the router IP address. Most of the reasons for accessing your router are management related. You can access the router to manage security settings and basic Wi-Fi and network settings. You can also check the log to view the browsing history because the router log contains the websites visited through the wireless router. You can monitor a single computer or an entire network using this method.
Access the Router
Access the router by opening a web browser. Your default web browser is the best bet. Open the browser and insert the IP address for the router into the browser. In most cases, the IP address is 192.168.1.1, but this can vary. Try the standard IP address first to see if it works. If it fails to open the router settings, check the bottom of the router for a label with the IP address listed. Otherwise, open a command prompt on your desktop and type "ipconfig" to open the router information. Next to the words "Default Gateway" is a number for the IP address. Type the correct address into a web browser to access the router settings.
Router Logs
It does not make a difference if you access a Belkin Router IP or any other brand, the process remains the same. After typing the IP address in your web browser, you enter your login and password information to access the router settings and logs. After entering the correct information, you are accessing the logs through the firmware from the router manufacturer. Each firmware system is customized by the manufacturer, but most are intuitive. You can configure the network, blacklist websites and implement parental controls. To access the logs specifically, click on "Status," then on "Logs" to view the router activity record. When the logs generate, you can view them in the browser. You may also copy and paste the logs into a plain text file to save a hard copy on your computer.
Saving Settings
After viewing the router log files and making any changes in the settings, record your changes on a paper or digital document that is easily accessed. Keep a separate record of any password changes. You will need any changes in login credentials to access the router logs in the future.