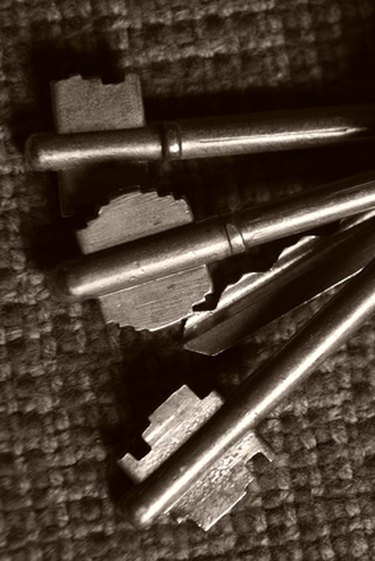 Wireless networking has many advantages over plugging all your computers in with Ethernet cables, but keeping track of all the IP addresses and network passwords can be a hassle. If you've forgotten your computer's IP address or network password, there are tools included in Microsoft Windows and Mac OS X operating systems that show you this information. Once you've found the information, it might be a good idea to write it down somewhere you'll remember.
Windows
Step 1
Open the "Start Menu" and select "Control Panel." Click "Network and Internet," then "Network and Sharing Center."
Step 2
Click on the network listed beside the "Connections" category on the right side of the window.
Step 3
Click the "Details" button. Your IP address is listed on the fifth row to the right of where it says "IPv4." Click "Close."
Step 4
Click "Wireless Properties," then click the "Security" tab at the top of the window that pops up.
Step 5
Click the "Show characters" box below "Network security key." Your network password then shows up in the text field.
Macintosh OS X
Step 1
Open "System Preferences" from the Apple menu in the top left hand corner of the screen.
Step 2
Click the "Network" icon in the "System Preferences" window.
Step 3
Click on the network adapter whose IP you want to know. Its IP address is listed on the right side of the window.
Step 4
Open a Finder window and go to the "Applications" folder, then open the "Utilities" folder. Open the "Keychain access" program.
Step 5
Find the name of the network your Mac is connected to. The network password is listed to its right.
Tip
If you're using an older version of Windows or OS X, ways to recover network information may differ.