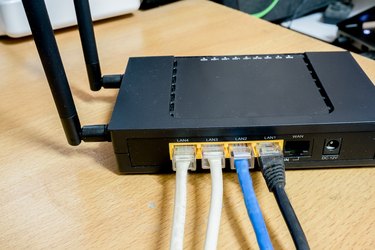 Netgear's Wireless-N 300 routers follow the 802.11n wireless standard and are backward compatible with 802.11g and 802.11b. You can turn a Netgear wireless-N 300 router into a network bridge if you disable the internal DHCP server. Any device connected to the router when it is in bridge mode has its communications passed to the primary router on the network automatically.
Step 1
Connect an Ethernet cable between one of the "LAN" ports on the Netgear router and an Ethernet port on the computer.
Step 2
Open a Web browser, then type "192.168.1.1" without quotes into the address bar.
Step 3
Type "admin" for the username, and "password" for the password.
Step 4
Click the "LAN IP Setup" link in the left column.
Step 5
Deselect "Use Router as DHCP Server."
Step 6
Click "Apply" to save the settings. The router is now in bridge mode.