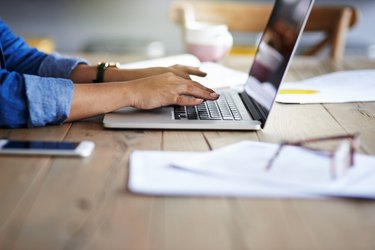 Flash began as FutureSplash in the 1990s, but it was eventually bought out by Macromedia and, later, Adobe. Adobe Flash is a tool developers can use to create multimedia content for the internet, and the Flash Player plays that content. To test whether Adobe Flash is working, go to the Adobe Flash Player web page and confirm that the test animation plays. If not, follow the recommended steps to enable Flash in your browser.
Adobe Flash Player Test
There's an easy way to test your Adobe Flash Player. Go to the Flash Player Help page at helpx.adobe.com/flash-player.html and scroll down to step five. If you can see the animation in the square there, your Flash Player is working correctly. If not, you may need to enable it in your browser. It's usually disabled by default to keep your computer safe.
There are also third-party tools that give you information about your browser. You can navigate to whatismybrowser.com and see if Flash is installed. In many cases, it shows as disabled, especially if you've followed a browser's recommendation to prompt you before running Flash. Viruses have been know to take advantage of Flash's capabilities, so the prompt can keep your device safe.
Check Adobe Flash Player Version
If you test Adobe Flash and find it isn't working properly, check to see if it's installed on your system. On the same Flash Player Help page as the Flash Player Test, click the Check Now button to bring up a readout of your current version.
After you have your version number, compare it to the updated list at get.adobe.com/flashplayer/about/. Find your operating system and browser type in the list. If your version doesn't match the Player version listed, your Flash version is outdated. You need to update your Adobe Flash Player.
The 'Site Needs Flash' Error
If you are getting an error that alerts you something is wrong with Flash, your next steps depend on the type of browser you're using. Typically, the error reads either, "Site needs Flash to work" or "Flash Player is installed, but it is disabled."
Google Chrome: Run the Adobe Flash Player update and then restart your browser. Select the Lock icon or the Info icon that shows up to the left of the web URL where you're getting the error. Select Site Settings and choose Allow next to Flash. Then refresh the page.
Mozilla Firefox: Update Adobe Flash and restart Firefox. Click the plug-in notification to the left of the web address and choose Allow. Check the box to remember your decision. You can enable Flash for all websites by going to Add-ons and selecting Always Activate next to Flash.
Microsoft Edge: Choose the Lock or Info icon next to the web address and choose Allow Adobe Flash. Refresh the website to run the Flash Player test and make sure it worked. You can also allow Flash for all websites by going to Settings and View Advanced Settings and then toggling the Use Adobe Flash Player Switch to On.
Flash Phasing Out
It's important to note that your days of needing to test Adobe Flash Player are coming to an end. Adobe is phasing out support for the player in 2020, and many browsers are already cutting it off. Most developers have made the switch to the HTML standard, eliminating the need for Adobe Flash Player updates to enjoy online multimedia content.
Since Microsoft is disabling Flash in both Edge and Internet Explorer in 2019, your issues with Flash could be related to that. Apple, Facebook, Google and Mozilla plan to leave it in place until 2020, as does Microsoft for some applications.