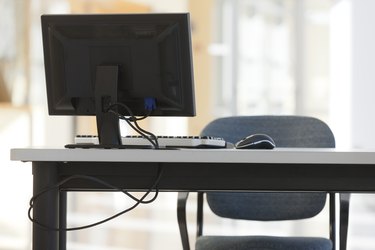 When you leave a job, your computer trail can range from inconvenient to embarrassing, depending on how you manage your exit strategy. If you're giving notice, or have time before your last day, there are steps you can take to minimize your personal footprint on your company computer and data storage servers.
Keep in Contact
Your business contacts are a valuable resource. Protecting the "who you know" aspect of your job may be important enough to maintain at all times, not only when your job is ending. Save your contact lists periodically from any contact resource management software, Outlook or other email program connected with business use. Consider creating personal social media accounts with services such as LinkedIn, Facebook and Twitter for connections with important colleagues and clients. These are under your control and accessible from wherever you are.
History Lessons
Internet browsers on company computers may store data in forms other than simply listing the sites you've visited. Caches save elements of regularly visited sites and cookies and temporary files may contain information you'd rather not share. Google Chrome, Internet Explorer and Firefox each use the "Ctrl-Shift-Delete" key combination to access screens allowing you to clear some or all of the data stored by your browser. Don't forget to clear any saved passwords and automatic form-filling data, to prevent someone accessing your accounts down the line.
The Server is the Master
When your computer is connected through a work network, backups to the network servers may make it difficult to completely remove emails and documents, depending on how your IT department creates and stores backup data. You can attempt to protect personal documents by saving your original to a data stick or other portable storage, then opening the document on your work computer, deleting the content, and saving the file. Company servers may use file updates to store only the most recent versions of a file. Redundant storage may store several versions, and periodic system-wide backups may include older, unwanted data.
Consider Intellectual Property
Employment agreements may have an effect on what information you can delete or take with you. Documents, code and correspondence may all be your employer's property if you have signed such an agreement. Research your agreement to find the boundaries that cover use of your contributions to the company. Depending on the reason for, and the terms on which, you're leaving, being forthright about your desire for access to work samples may help your ability to use samples of your work, though it remains your old employer's property.