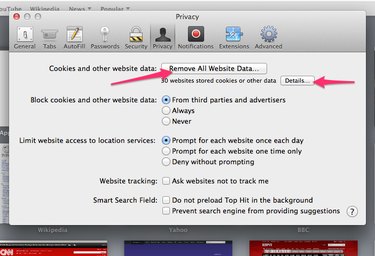 When you move around the Internet, your Web browser often saves browsing information to speed up load times and simplify tasks such as filling out forms and remembering personal preferences. While storing this data as cookies and in the browser's cache can be handy, keeping tabs on what's being stored and tracked is important to safeguarding your privacy. The Safari 8 browser enables you to clear both cookies and the cache using the Safari Preferences panel.
Clear Cookies
Step 1
Click Safari on the Apple menu bar along the top of your screen and select Preferences to open the Safari Preferences panel.
Step 2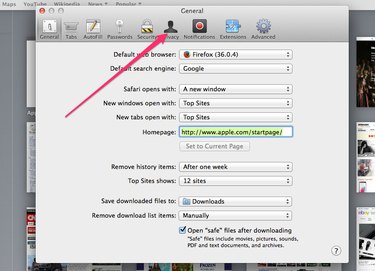 Step 3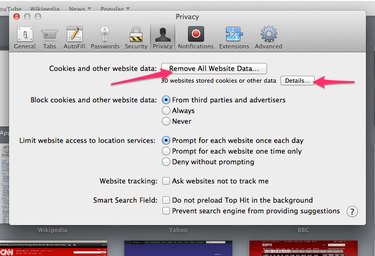 Click the Remove All Website Data button to delete all cookies currently stored by Safari.
To remove only certain cookies, click the Details button, select the cookies you want to remove and click the Remove button. Click Done when you're finished.
Clear the Cache
Step 1
Select Safari on the menu along the top of the screen and choose Preferences.
Step 2
Click the Advanced tab and tick the Show Develop Menu in Menu Bar check box to add the Develop button to the Apple menu.
Step 3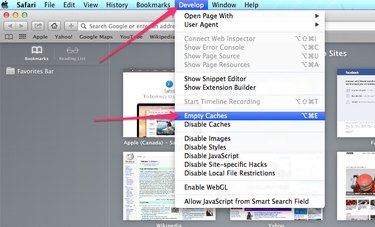 Click the Develop button and choose Empty Caches to clear Safari's cache.
Tip
To clear your history, auto-fill data and other assorted information, click "Safari" on the Apple menu bar and choose "Clear History and Website Data." In versions of Safari previous to Safari 8, select "Safari" on the Apple menu, choose "Reset Safari" and then click "Remove All Website Data."
You can also change other security and tracking settings from the Privacy section of the Preferences panel. To prevent cookies from being stored altogether, click the "Always" radio button next to the Block Cookies and Other Website Data heading. To prevent website tracking, place a check mark in the "Ask Websites Not to Track Me" check box. When you click this check box, Safari sends a Do Not Track request to each website you visit. However, it is up to the website whether or not it honors this request.
You can also configure Safari so that it no longer caches items. To do so, click "Develop" on the Apple menu and choose "Disable Caches." Disabling the cache in Safari may result in slow load times because the browser must load all graphics and other content every time you visit a website.