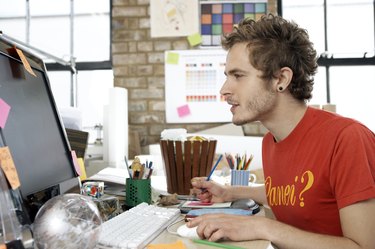 Your computer registry is a log of everything you've downloaded and contains software configuration settings that are used by the operating system to load and run applications properly. When Photoshop is installed on your computer, its configuration settings are stored in the registry. Similarly, when you uninstall Photoshop, the uninstaller by default removes all the registry files. However, if the uninstaller is damaged then you can manually remove them by following a few steps.
Step 1
Click on "Start" and then click on "Run."
Step 2
Type "regedit" in the run dialog box and then click on "OK."
Step 3
Click on the "+" sign next to "HKEY_CLASSES_ROOT" in the Registry Editor.
Step 4
Click on the "+" sign next to "Installer".
Step 5
Click on the "+" sign next to "Features".
Step 6
Find "4C7BB6329144DF244090E152A7523ED" below Features, right-click on it and then click on "Delete." Similarly do for each one of the following entries:
HKEY_CLASSES_ROOT\Installer\Features\902087A214A257C439A26F0F93D034A0
HKEY_CLASSES_ROOT\Installer\Products\4C7BB6329144DF244090E152A7523ED4
HKEY_CLASSES_ROOT\Installer\Products\902087A214A257C439A26F0F93D034A0
HKEY_CURRENT_USER\Software\Adobe\Photoshop\9.0
HKEY_LOCAL_MACHINE\SOFTWARE\Adobe\Photoshop\9.0
HKEY_LOCAL_MACHINE\SOFTWARE\Classes\Installer\Features\4C7BB6329144DF244090E152A7523ED4
HKEY_LOCAL_MACHINE\SOFTWARE\Classes\Installer\Features\902087A214A257C439A26F0F93D034A0
HKEY_LOCAL_MACHINE\SOFTWARE\Classes\Installer\Products\4C7BB6329144DF244090E152A7523ED4
HKEY_LOCAL_MACHINE\SOFTWARE\Classes\Installer\Products\902087A214A257C439A26F0F93D034A0
HKEY_LOCAL_MACHINE\SOFTWARE\Microsoft\Windows\CurrentVersion\Installer\UserData\S-1-5-18\Products\4C7BB6329144DF244090E152A7523ED4
HKEY_LOCAL_MACHINE\SOFTWARE\Microsoft\Windows\CurrentVersion\Installer\UserData\S-1-5-18\Products\902087A214A257C439A26F0F93D034A0
HKEY_LOCAL_MACHINE\SOFTWARE\Microsoft\Windows\CurrentVersion\Uninstall\Adobe Photoshop CS2 - {236BB7C4-4419-42FD-0409-1E257A25E34D}
HKEY_LOCAL_MACHINE\SOFTWARE\Microsoft\Windows\CurrentVersion\Uninstall{236BB7C4-4419-42FD-0409-1E257A25E34D}
HKEY_LOCAL_MACHINE\SOFTWARE\Microsoft\Windows\CurrentVersion\Uninstall{2A780209-2A41-4C75-932A-F6F0390D430A}