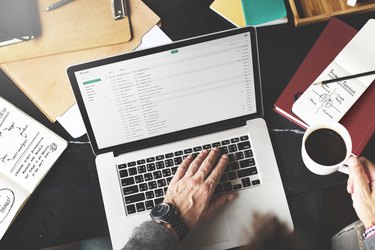 When you transfer large files in an email message, you run the risk of exceeding the attachment size limit, which causes the send to fail. Compressing files reduces their size, making it easier to send them without reaching these limits. Some of the best candidates for compression are large multimedia files like videos, photos and audio files, as these tend to exceed the size limits on their own -- especially videos.
Types of Compression
Several compression formats are commonly used, and picking the right one depends on a few different factors. ZIP compression is the most commonly supported and is more universal than others, but it offers less compression than formats like RAR and 7Z. These formats, however, require specialized programs to decompress the files. The formats your file's recipient can decompress play a large part in your decision. In most cases, this makes ZIP the best choice, as ZIP compression is integrated with Windows, eliminating the need for additional plug-ins or downloads.
How to Compress Files
The exact process of file compression varies depending on the program you're using. To use Windows' built-in ZIP compression in Windows 7, right-click the file or folder, hover the mouse over "Send to," and then select "Compressed (zipped) folder" from the resulting drop-down menu. For Windows 8, select the file and click "Share," followed by "Zip." In other programs, you usually create the archive, add files to it and then instruct the program to compress. For specific directions, consult your archiving program's documentation.
Attachment Size Limits
Just how small you need the compressed file to be depends on the email service you're using to send it. Limits vary from one provider to another, so you'll need to check with your specific provider for exact details. Popular options like Gmail and Yahoo limit you to 25MB per email, while Outlook.com limits you to 10MB per email. Email clients are often similar, with Microsoft Outlook limiting you to 20MB per attachment, Windows Live mail limiting you to 10GB per email and no more than 50MB per file, and Mozilla Thunderbird offering unlimited size.
Cloud-Based Alternatives
Cloud storage offers a solid alternative if your file still exceeds your size limit, regardless of how much you compress it. By storing the compressed file on a cloud server like OneDrive, Google Drive or Dropbox and sending a download link to the recipient, you save the time it would take to attach the file and send large files -- even those stretching into multi-gigabyte territory. This is also a more convenient way to share the file with multiple people, as it only needs to be uploaded once. Your recipients can then download the file at their convenience.