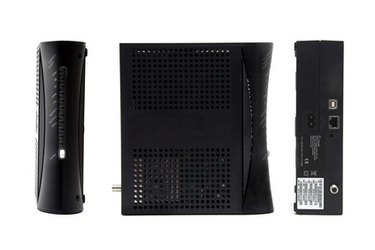 If you don't have a direct DSL line built into your wall (as is usually the case with older homes) you need to connect your DSL modem to a phone line. However, if you are using two different DSL modems in the same room you need to plug the two different DSL modems into the same phone line. This is possible through the aid of a filter and a splitter.
Step 1
Connect the phone line to DSL filter into the phone line on your wall. The filter has a larger port, allowing you to connect a DSL cable into the phone line.
Step 2
Insert the DSL splitter into the DSL end of the filter. This splitter has two different Ethernet cable ports with a single Ethernet cable reaching out of the back end of the splitter (it resembles a computer mouse).
Step 3
Connect the two Ethernet cables into the Ethernet ports on the splitter.
Step 4
Plug the other end of the Ethernet cables into the "Wan" port on the DSL modems. Once the DSL modems are connected to the Ethernet cables you can connect the modems to your computers and other Internet-based devices.