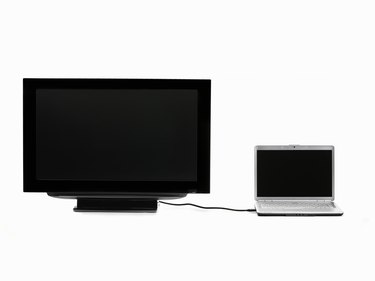 Connecting your computer to your television can offer you an unparalleled computing experience, allowing you to enjoy web browsing and all other PC functionality on your larger home TV. Although you might assume the process of connecting a computer to your television would be daunting, it requires nothing more than the use of a simple cable, available either online or through any consumer electronics store.
Step 1
Purchase a VGA cable and a DVI to VGA converter (if needed). The VGA cable is a cable with blue attachments on either end that contains a total of 15 pins (arranged in a 5x3 lineup). You will only need the VGA to DVI adapter if your computer does not have a blue VGA connector on the back.
Step 2
Attach the VGA cable to the VGA port on the back of your computer (going through the DVI to VGA adapter if necessary). When screwing the connector in, alternate between the two sides periodically. Tighten one side of the connector a little, then tighten the other side of the connector to match. This will ensure a tight connection and an optimal picture.
Step 3
Attach the VGA cable to the back of your Emerson television, utilizing the same alternating tightening method that you used to secure the cable to your computer.
Step 4
Use the menu button on the Emerson TV to select a new "source." Choose "VGA" input, then confirm that by pressing the OK button (normally the volume+ button on most televisions). The television should immediately switch to display the computer's output. If it takes you to a blue screen instead, simply restart the computer in order to reset the connection.