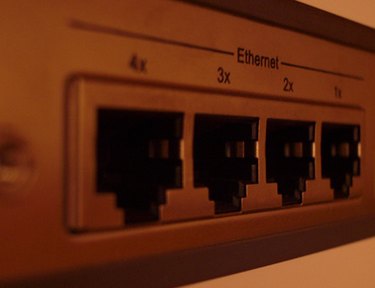 Voice over Internet Protocol or VoIP phone service is designed to replace the need for landline telephone service, delivering your voice calls over a broadband Internet connection rather than copper phone wires. If your router does not feature a built-in phone port, one option for setting up your VoIP network is to use a VoIP phone. This type of phone is specially designed to connect directly to your router and can be hooked up in a matter of minutes.
Step 1
Locate the Ethernet ports on the back panel of your router.
Step 2
Insert one end of an Ethernet cable into an open port on the router. Connect the other end of the cable to the Ethernet port on the VoIP phone.
Step 3
Connect the phone to a power source.
Step 4
Follow the instructions provided by your VoIP service provider to configure the VoIP phone for call service.
Step 5
Make a test call to ensure that your VoIP phone is working correctly and the quality of the audio is satisfactory.
Tip
Configuration steps will vary depending on the manufacturer of the VoIP phone and your broadband service provider.
If the call quality on your VoIP phone is not acceptable, contact your VoIP service provider for help with adjusting the quality settings on the VoIP phone and your router.