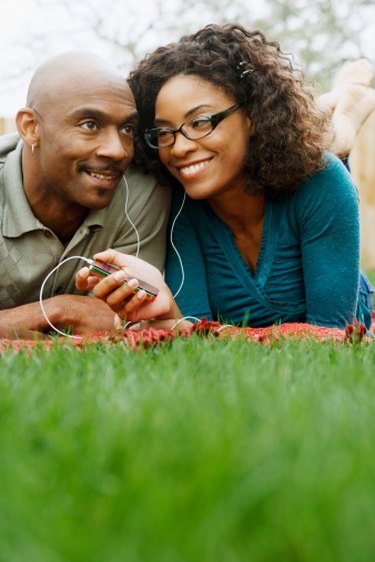 Converting an audio file's bit rate, also known as a data or transfer rate, is useful for playback on certain portable electronic devices. For example, if a bit rate is too high, your device may be unable to read the file as it can not keep up with the rate at which data is being transferred. You can heighten or lower bit rates in iTunes and even convert to MP3, WAV, AIFF or AAC formats if needed. Note that lowering or heightening the bit rate will decrease or increase your file's size. It is recommended you update to the latest version of iTunes before you begin.
Step 1
Visit Apple.com/iTunes/download and click the "Download iTunes Now" for a free download of the latest version of iTunes. Double-click the program file when download has finished and follow the on-screen prompts to re-install iTunes to your computer. Choose to transfer all iTunes Library media to the new version when prompted. Select a location on your hard drive to install the application to, accept the licensing terms and open iTunes.
Step 2
Click the "Edit" menu option at the top of your screen, or the "iTunes" option if running Mac OS X, and choose "Preferences."
Step 3
Click the "Import Settings" button near the bottom-right corner of the window to enter the Import Settings screen. Choose a different audio format, if required, from the "Import Using" drop-down box.
Step 4
Click the "Setting" drop-down box and choose a quality setting. For MP3s, options include "Good Quality (128 kbps)," "High Quality (160 kbps)" and "Higher Quality (192 kbps)." For advanced bit rate, sample rate and channeling options, select "Custom." Choose your own "Channels," "Stereo Bit Rate" and "Sample Rate" from the drop-down boxes.
Step 5
Press "OK" to save your changes and return to your iTunes library.
Step 6
Right-click the icon of the audio file you want converted and select "Create... Version" (e.g. "Create MP3 Version," "Create WAV Version, etc.) to create a new file with the desired settings previously chosen. Your new file will appear below your old file in the iTunes library.
Tip
Consult your user manual before converting bit rates. A "sampling rate" refers to the rate at which higher frequencies can be captured. Standard CD sampling rates are 44.1 kHz.
Warning
Do not alter any sampling rates or stereo channeling options for general use unless otherwise instructed by your device or program's user manual.