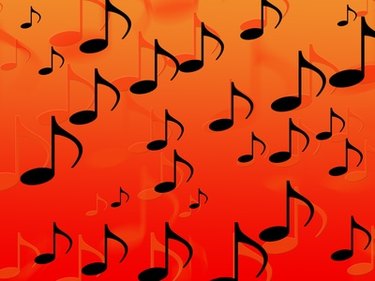 If you have a song encoded as a WAV file, it can be imported to your iTunes program and transferred to your iPod, iPad or iPhone for audio playback, as it is a common audio file supported by iTunes. WAV files are often encoded at a higher bitrate, which uses a large amount of storage space on both your computer and portable media player, as opposed to a compressed file such as an MP3. A WAV can be converted into an Advanced Audio Coding (AAC) file of 128 Kbps, which provides quality sound and takes up little space.
Step 1
Open Windows Explorer on your PC, or Finder on your Macintosh computer, and locate the WAV file you wish to import to iTunes.
Step 2
Right-click the WAV file, move your on-screen cursor to "Open with" and click "iTunes" in the shortcut menu. For Macintosh computers, hold down the "Control" key and click the WAV file to access the shortcut menu. By default, iTunes is the media player for audio files.
Step 3
Click the newly-imported WAV file in iTunes and click "Advanced" at the top of the iTunes window. Click "Create AAC Version" from the sub-menu to convert the WAV file to the iTunes' AAC audio format. The new AAC version of the song will appear underneath the original WAV file.
Step 4
RIght-click the WAV file, click "Delete" from the shortcut menu, then "Remove" on the pop-up confirmation window.