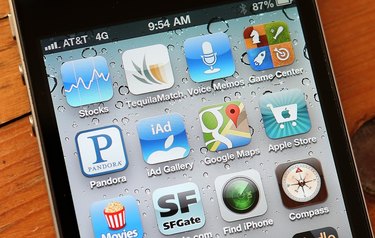 One of the best things about an iPhone is that is does so much more than just make phone calls. There are thousands of applications that can be downloaded onto your iPhone that enable you to play games, keep track of household and work issues, as well as so much more. With your iPhone you can listen to your favorite music and watch your favorite television shows and movies. However, not all movies are compatible with the iPhone. Thankfully, movies that run in Quicktime are easily converted to play on your iPhone.
Step 1
Download and install iTunes to your computer if you have not already done so. You must have iTunes enabled to transfer movies to your iPhone.
Step 2
Find the movie you would like to convert from Quicktime to your iPhone. Typing "Quicktime" into your computer's search bar should bring up all of the movies that are stored on your computer's hard drive in Quicktime format.
Step 3
Right-click on the movie you would like to transfer.
Step 4
Scroll through the pop up menu until you find "Properties" (should be the last option on the pop up menu) and click on it.
Step 5
Choose the tab labeled "General" from the pop up menu.
Step 6
Locate the section of information that reads, "Type of file" and "opens with." The type of file should read "MOV" and the movie should open with Quick Time player.
Step 7
Click on the "Change" button. The button is located right next to "Opens with."
Step 8
Choose "iTunes" from the pop up menu. If the iTunes option is not automatically suggested, click on the "Browse" button (bottom right hand side of the pop-up screen) and scroll through the options until you find it.
Step 9
Click on "OK" and then "Apply." This will convert the movie file to be compatible with your iPhone.
Step 10
Open iTunes and click on "File." Scroll down and click on "Add file to library."
Step 11
Locate the movie you just converted and click on it to highlight. Click on the "OK" button. The movie will now be transferred to your iTunes library. Sync your iPhone as you normally would.