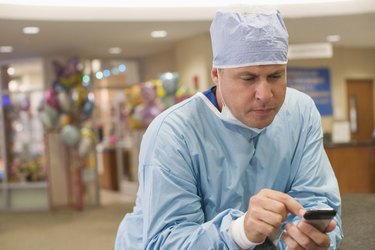 MP4 video files are fully compatible with the iTunes software program, video iPods and iPhones. MP4 videos cannot be sent to your iPhone via email or file-sharing service. The iTunes software can be utilized, however, to send MP4s to an iPhone that you own. The MP4 must first be saved in your computer's iTunes library. You also may have to change a setting on the iPhone in order to add the MP4 to the iPhone.
Change iPhone setting
Step 1
Connect an iPhone/iPod USB cable to the computer. Plug the cord's other end (the "iPod" end) into the iPhone.
Step 2
Open iTunes on the computer. Wait until the iPhone syncs with the program, and appears in the "Devices" category.
Step 3
Click the iPhone name (under "Devices"). Then, click "Summary" in the center of the program.
Step 4
Click on the empty box next to "Manually manage music and videos." Proceed to Section 2 if the box is checked already.
Step 5
Click "Apply." You're now able to add a single MP4 to the iPhone.
Add MP4 to iTunes
Step 1
Click on the "File" option that's at the top of iTunes. Choose "Add File to Library." An iTunes window appears.
Step 2
Locate the MP4 you're sending to the iPhone. Click the name of that MP4.
Step 3
Click "Open." The MP4 is transferred to iTunes.
Send MP4 to iPhone
Step 1
Click the "Movies" option under "Library," in the left panel of iTunes. Different video files, including the MP4 mentioned in Section 2, appear inside the middle iTunes window.
Step 2
Select the MP4 file by clicking the video's name. The MP4 is highlighted.
Step 3
Drag the MP4 over to the iPhone (under "Devices") to send the MP4 to the iPhone.