Digital images come in many formats, including web graphics (e.g. GIF, PNG), high resolution print images (e.g. TIF, PDF) and vector illustrations (e.g. EPS, SVG). Of all the formats, JPEG is perhaps the most versatile. In most cases, the JPEG format is suitable for both large and small graphics, it often works for both print and Web formats and nearly any computer can view it. Better still, with standard graphic editing software, nearly any image can be converted into a high resolution JPEG format.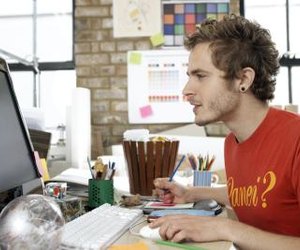 Step
Open your picture in a graphic editing program. This tutorial uses Adobe Photoshop as an example, but the less expensive Adobe Photoshop Elements program also works in the same manner, as does the free Corel Paint Shop Pro software. After launching your program, select "File" from the menu near the top of your screen, then choose "Open." Locate the picture you want to open, click its icon once, then select "Open" to bring up the image on your screen.
Step
Make a copy of your image. Select your entire picture by pressing the "Ctrl" and "A" keys at the same time. Select "Edit" from the top menu bar, then choose "Copy."
Step
Create a new, higher resolution document. Select "File" from the top menu bar and click "New." The width and height dimensions shown in the dialog box labeled "New" match those of the image you copied in the previous step by default. Locate the field labeled "Resolution" and set your desired value: 72 pixels per inch is generally enough for images shown only on computer screens, while 300 pixels per inch is the minimum required for printing. Click "OK" to create the new image canvas.
Step
Paste your original image into the higher resolution document. Select "Edit" from the top menu bar and choose "Paste."
Step
Save your higher resolution image in the JPEG format. Click "File" in the top menu bar and select "Save." Give your file a name and select the location where it should be saved. Locate the drop-down menu labeled "Format" and select the JPEG option. Click "Save." In the JPEG Options dialog box that follows, find the "Image Options" section and set the quality value to 12 to achieve the highest possible image quality. Click "OK" to save your high resolution JPEG.