DirecTV satellite television uses a receiver for unscrambling the extraterrestrial signal. Some receiver models are equipped with a digital video recorder (DVR) for copying shows that you can enjoy at a later time. The DVR has a hard disk drive similar to the drive in a computer for storing recorded programs. Over time, the drive will fill up, so transferring programs you want to keep to another storage medium, such as a laptop computer, makes deleting programs possible to make room on the DVR for new recordings.
Step 1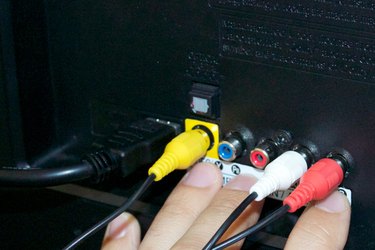 Connect the three plugs on one end of the composite cables to the AV OUT jacks on the back of the DirecTV DVR, matching the yellow, white and red plugs to the jack colors.
Step 2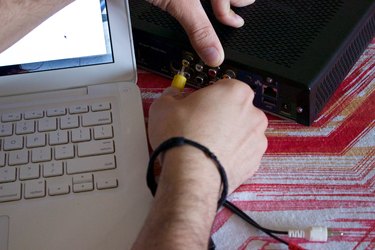 Connect the yellow plug on the other end of the cables to the yellow jack on the laptop's video capture card along the back edge.
Step 3
Connect the red and white plugs on the other end of the cable to the two jacks on the Y-adapter, then insert the miniplug on the Y-adapter into the laptop's audio Line IN jack.
Step 4
Double-click on the name of the laptop's video-recording software to open the program.
Step 5
Turn on the DirecTV receiver and press "Menu," then press the down arrow key on the remote control to scroll to "Programs." Highlight a recorded program to copy to the laptop.
Step 6
Click the "Record" button on the laptop recording software.
Step 7
Press "OK," on the DirecTV remote control then highlight and select "Copy to VCR," which will output the selected show to the laptop for recording.
Step 8
Click "Stop" on the recording software when finished, then click the "File" tab to select "Save As." This will open a box to type a name for the copied program. Select "Save as MPEG" and click "Save" once more to store the show on the computer. A Motion Picture Experts Group (MPEG) file is a standard digital video file format suitable for burning to a DVD at a later time, if desired.