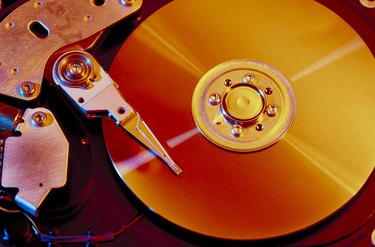 You can transfer files from one storage device to another with ease in Windows Explorer, but this process doesn't work if you are trying to copy applications or operating system files. If you want to upgrade or replace the existing hard disk drive installed in your PC, you can clone the contents of the current drive onto a new hard drive. Windows can create an exact image of the operating system, its programs and your personal files, and then transfer it to the new disk.
Step 1
Click "Start | Control Panel | System and Security | Backup and Restore."
Step 2
Choose "Create a System Image" from the left pane. Select "On a Hard Disk" or "On One or More DVDs."
Step 3
Select your backup drive or device from the appropriate drop-down menu. Click "Next."
Step 4
Choose all of the partitions on the disk from the options, including the "C:" drive, and click "Next."
Step 5
Review your selections on the "Confirm Your Backup Settings" screen. Click "Next" to clone the contents of the disk.
Step 6
Click "Yes" to create a system repair disc when prompted. Insert a blank disc into the optical drive.
Step 7
Choose the DVD burner from the "Drive" drop-down menu and then click "Create Disc."
Step 8
Restart the computer with the system repair disc still in the optical drive. Press "Enter" when prompted to press any key.
Step 9
Choose your input method from the associated drop-down menu and click "Next."
Step 10
Select "System Image Recovery" from the System Recovery Options menu.
Step 11
Click "Restore Your Computer Using a System Image That You Created Earlier." Click "Next."
Step 12
Click "Use the Latest Available System Image" and then click "Next."
Step 13
Click "Format and Repartition Disks" to delete all existing partitions and format the hard drive so it matches that of the system image. Click "Next."
Step 14
Review your options on the summary page, then click "Finish" to clone the system image to the new hard drive.
Tip
If you choose not to disconnect other drives from the computer prior to recovery, click "Exclude Disks" on the "Choose Additional Restore Options" screen to prevent Windows from formatting the selected devices.
If problems occur when attempting to boot the new hard drive, boot to the system recovery disc and select "Startup Repair."
Warning
Don't restore the system image to a hard disk that is smaller than the existing drive.