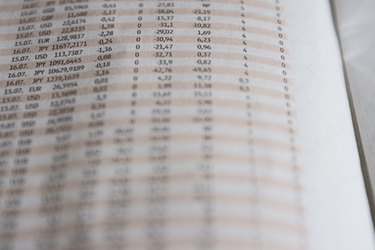 If you need to create a spreadsheet and think you don't have a spreadsheet program, think again. Most computers come with free spreadsheet software, there are freeware spreadsheets available online and you can create web-based spreadsheets. Each option enables users to create a free spreadsheet.
Step 1
Check your computer. Most systems come with free spreadsheet software pre-installed. Windows computers usually have Microsoft Works, a free office suite that includes a lightweight spreadsheet program. Microsoft Office, which includes the Excel spreadsheet program, is also pre-installed on most Windows systems. It can be loaded on a trial basis at no charge and used to create spreadsheets for a limited number of trial uses.
Step 2
Download free spreadsheet software. There are a number of free spreadsheets that can be downloaded online. OpenOffice is a free office productivity suite that includes a spreadsheet program that is similar to, and largely compatible with, Excel. Or search for "free spreadsheets" to find other programs you can download.
Step 3
Use Google Docs. Google also provides a free office suite of web-based programs (programs you don't have to download), and these include a spreadsheet program that is straightforward and useful, even if a bit limited in capabilities.