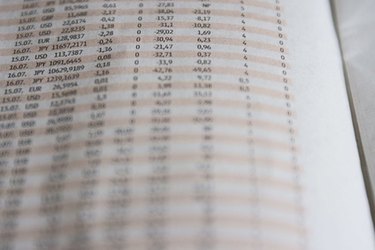 There are several commercial spreadsheet programs available, but Microsoft Excel is the most widely used spreadsheet software. Regardless of your version of Excel, you will likely need to add a blank line into an existing spreadsheet at some point. For instance, in an alphabetical list of contacts, you may have a new name you want to add in the middle of the list. Inserting a blank line, or row, in Excel is straightforward.
Step 1
Double-click the "Excel" icon on your "Programs" list to open the program.
Step 2
Open the file you want to work on by selecting it from the list of recently used files or by using the "Open" command under the "File" menu.
Step 3
Click a row number on the left side of your spreadsheet to highlight the row above which you want to add a blank line.
Step 4
Click "Insert" at the top of the spreadsheet to open a pull-down menu of commands. Click "Rows" to insert a new line in your spreadsheet immediately above the row you originally selected.