Add 12 weeks -- or any number of weeks -- to dates in Excel by using a formula to add the corresponding number of days.
Step 1
Insert a new column designed to hold the new dates and select the cell where the first new date should appear. Click the fx icon to open the Function Arguments window.
Step 2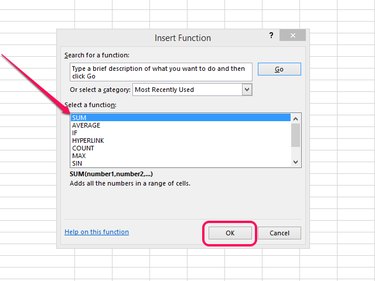 Select Sum from the list of available functions and click the OK button.
Step 3
Place your cursor in the Number1 field and select the first date from the spreadsheet.
Step 4
Enter the number of days you want to add to the date in the Number2 field and click the OK button. For example, to add 12 weeks to a date, enter 84 (12 multiplied by 7).
Step 5
Apply the same formula to multiple dates, if needed, by clicking the square icon -- also known as the fill handle -- that appears at the bottom-right corner of the cell that holds the formula you just created and dragging it to other cells.