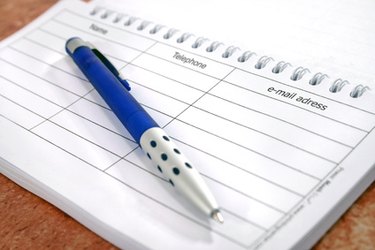 The formatting of telephone directories ranges from simple name and number listings to robust contact information databases. But if you only need to create a basic telephone directory, complicated software and elaborate templates can make the task harder than it should be. Thankfully you can find a great selection of simple telephone directory creation options for free online.
Step 1
Download a directory template from SampleWords' website to create your simple directory (see Resources). The free directory template features the essential components needed to construct you directory, employing standard fields such as "Name," "Street Address" and "E-mail." After downloading the template, print it out and fill in your directory information by hand or edit the template in a word processor.
Step 2
Download a free copy of PhoneBook 1.0 to create a computer-based directory (see Resources). The program features a "Name," "Phone" and "Comments" field -- simply edit each field with your directory information. You can browse your directory, using the program's "Previous" and "Next" button. Alternatively, you can use the program's "Search" option to quickly locate a directory listing.
Step 3
Download a free copy of RGS-CardMaster to create a database-style directory on your computer (see Resources). RCS-CardMaster treats each directory as a card. Each card contains editable contact information fields, and you can even upload a picture to your directory cards. You can save your directory in RGS-CardMaster's .DRG format, or you can print them out.