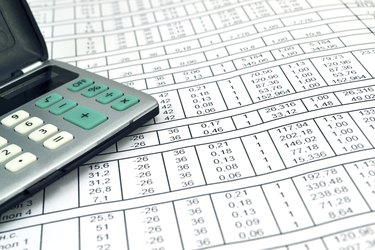 In addition to the program's spreadsheet functionality for formatting and entering data, Microsoft Excel offers users a number of templates that can save you a considerable amount of time on new tasks. From invoices and audit reports to billing statements, Excel templates contain a useful skeleton with custom formatting and relevant formulae, allowing you to fill in details like your company name and address. You can download these templates for free from the Excel file tab and using one makes creating a billing statement a matter of simply filling in your data and directory information.
Downloading a Template
Step 1
Click on the "File" tab on the top of Excel and select "New."
Step 2
Browse the templates on the visual list in the initial screen. Alternatively, you can search for a relevant template (see Resources) by typing "billing statement" into the search field at the top or by clicking through the categories on the left of the screen.
Step 3
Click on a template you like to open a preview screen with additional information about the template.
Step 4
Click on the "Download" button in Excel 2010 or the "Create" button in Excel 2013 to download the file and start editing the template in Excel.
Step 5
Save the file with a descriptive name that will be easy for you to locate. Excel automatically opens the file with a default template name.
Editing the Template
Step 1
Click on the title cell and type in your personal or company name. Most templates come with placeholders for this kind of information such as "[Company Name]."
Step 2
Fill in your address and other directory information, such as phone number and website, in the appropriate cells in the worksheet.
Step 3
Fill in information about the recipient of the billing statement and any other basic information in the template, such as billing date.
Step 4
Review the format of the billing statement table and customize it to your needs. Once the template is loaded in Excel, you can edit it like your own spreadsheet. Right-click on a column and select "Insert" to add a column to the sheet or highlight a column and press "Delete" to remove it. You can also add or remove rows as needed or edit details like column and row sizes, colors or any text cells on the sheet.
Step 5
Fill in your data for the billing statement. Type words or values into each cell and press the "Tab," "Return" or arrow keys to move through the worksheet. Depending on the template design you picked, the sheet should already include formulae to calculate and display information like subtotals and a grand total.