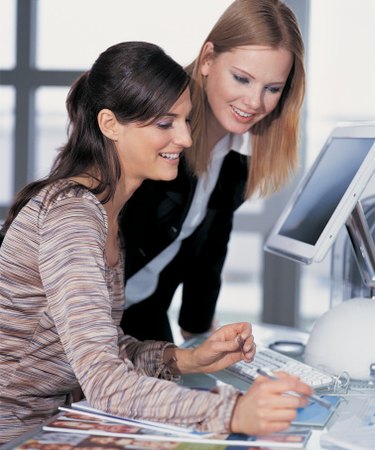 You can use Microsoft Publisher to create many types of personal and business publications, including forms. Publisher includes built-in templates for the following types of business forms: expense reports, fax cover sheets, inventory lists, invoices, purchase orders, quotes, statements, time billing, weekly records and refunds. Additional templates are available through the Office Community website. You will need to download community templates before they are available for your use using the "Download" button in the Accessory Bar of Available Templates.
Step 1
Launch Microsoft Publisher. Publisher opens the "New" tab of the "File" menu. Select "Business Forms" from the "More Templates" section of Available Templates.
Step 2
Select a template from the previews displayed, or enter a specific template type in "Search for templates." For this example, select "Accent Box" from the "Quote" section.
Step 3
Select a color scheme, font scheme and business information using the drop-down boxes on the right side of the screen. Check "include logo" if you want one, then click "Create."
Step 4
Edit specific information on your form by clicking on the item. Press F9 to toggle between full-screen and zoomed-in views.
Step 5
Save your file periodically as you work. Print a test page to verify the printed publication meets your expectations. Depending upon the template you selected, you may be able to use Mail Merge. You can print your form or you can send it by email to save paper and postage costs.
Step 6
Select the "Mailings" tab. You can use one of the Mail Merge Wizards available from the "Mail Merge" or "Email Merge" menus or you can Select Recipients by creating a new list, selecting from your Outlook Contacts or by using an existing list.