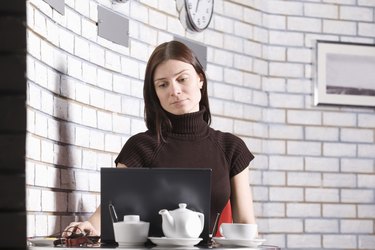 How to Customize Your Safari Browser. The Safari Web browser is Apple's latest and most powerful tool for surfing the Internet. It offers users the ability to customize their browser settings and parameters. It also permits them to create a personalized Web browser that is uniquely set up to their specifications. Safari allows users to customize a number of different browser settings, from managing bookmarks and setting appearances to activating advanced security features and changing proxy settings.
Customize Your Safari Browser
Step 1
Open up your Safari Web browser.
Step 2
Choose the 'Preferences' option from the Safari pull down menu.
Step 3
Click on the heading 'General' and choose Safari as your default Web browser.
Step 4
Enter in the URL of the homepage that you want Safari to go to when first opening.
Step 5
Select the location of where you want downloaded files to be saved.
Step 6
Click on the heading 'Appearance' and choose the type and size of font that you want text to be displayed in. Also, select the default encoding language that Safari will use when reading Web content.
Step 7
Click on the heading 'Bookmarks' and mark the boxes next to the bookmarks you want displayed.
Step 8
Click on the 'Tabs' heading and mark the box if you would like to enable tabbed browsing.
Step 9
Go to the AutoFill section and edit the personal information that Safari will use when automatically filling out Web forms. Also, import user names and passwords for sites that you visit frequently.
Step 10
Click on the heading 'Security' and enable or disable any of the security settings you wish.
Step 11
Go to the 'Advanced' section in order to change the proxy settings of your Internet connection.
Step 12
Close the Safari 'Preferences' window and begin surfing the Internet.
Things You'll Need
Macintosh computer running OS X or greater

Internet access

Safari Web browser
Tip
For more information on what each of the security settings is for, and for other information on how to use Safari, search through the Safari 'Help' window. You can also visit Apple's online Support Page (see Resources below). If you do not have the latest version of Safari, go to Apple's Web Site and download it (see Resources below). Installing Safari software updates and add-ons can give you added options on how you want to customize your browser. Make sure that your computer can support Safari. Safari 1.0 requires a computer running OS 10.3, while Safari 2.0 requires OS 10.4. Use Safari's Parental Controls security feature to protect your children from accessing online content they shouldn't.
Warning
This guide was written for Safari versions 1.0 and 2.0 and may not work with other versions. Altering your security settings can often affect the way Safari interacts with different Web sites.