A proxy server acts as an intermediary between two or more computers, and allows you to make indirect network connections to other network services. The settings for this determine the level of privacy and security for your system, and provide other options, such as accelerating data transfer speeds or bypassing controls. To disable the proxy settings -- and therefore disable access to the Internet -- through the Windows Registry Editor, edit values in specific subkeys for your Internet settings. Microsoft recommends backing up the Registry keys you plan on editing before making any changes.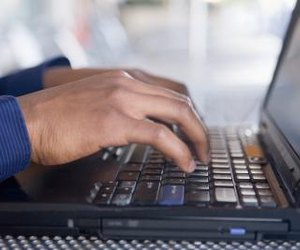 Disable Proxy Settings in Registry
Step
Click "Start," type "regedit" in the search field and press "Enter."
Step
Expand the "HKEY_CURRENT_USER" hive by clicking on the "+" sign next to it. Continue expanding "Software," "Microsoft," "Windows" and "CurrentVersion," then click on the "Internet Settings" subkey or folder.
Step
View the contents of the Internet Settings folder on the right pane. Double-click on the "ProxyEnable" DWORD value to open the "Edit DWORD Value" window. Change "Value data" to "1" and press "OK" to confirm.
Step
Double-click on the "ProxyServer" string value.
Back Up a Registry Key
Step
Locate the Registry key or subkey you will modify. For this case, locate the "Internet Settings" subkey.
Step
Right-click on the "Internet Settings" subkey or folder, then select "Export" from the drop-down menu to open a "Save in" box.
Step
Select a place for exporting the key, such as a removable storage device or a folder on your hard drive. To restore the backup, import it back through the Registry Editor's "File" menu.