Microsoft PowerPoint has a rather complex Equation Editor that you can use to type equations on your slides. The Equation Editor can type square roots, among other mathematical equations. You don't need to install any extensions or other software to type equations on your PowerPoint slides.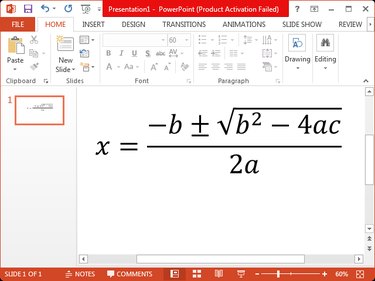 Step 1
Open the presentation you want to edit in Microsoft PowerPoint, click inside the text box where you want to display the square root or equation and then switch to the Insert tab.
Step 2
Click the Equation button in the Symbols group and select Insert New Equation at the bottom of the resulting menu. A Type Equation Here box displays in the selected text box and the Design tab is selected automatically.
Step 3
Click the Radical button in the Structures group on the Design tab and select the Square Root or Square Root with Degree option from the Radicals section.
Step 4
Click inside the dotted square under the radical and type the number or letter. Click anywhere outside the equation box to save the changes. You can edit the radical later by clicking on it.