The iTunes Store app on iPhones running iOS 8 enables you to download and install tones for use as ring tones, texts and other alerts. You can also download ring tone-making apps from the App Store and use them to convert downloaded music and other audio into ring tones.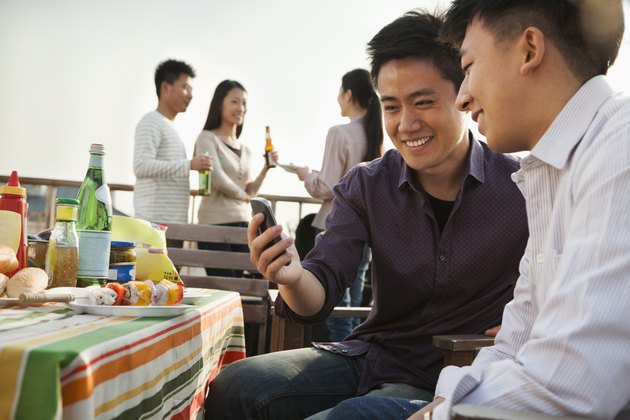 Downloading Ring Tones From the iTunes Store
The iTunes Store app on your iPhone enables you to purchase and download ring tones directly onto the device whenever you have an Internet connection. To download a ring tone, open the iTunes Store app and tap "Tones" to view the ring tones category. If you don't see Tones on the menu, touch "More" to expand the menu and then touch "Tones." Browse for the tone you want and then download it onto your device. Some tones are free, while others cost money.
Assigning a New Ring Tone in the iTunes Store App
When the iTunes Store download completes, a dialog appears on your iPhone's screen prompting you to choose what to do with the new ring tone. You can set it as the phone's default ring tone, the default text tone or assign it to one of the contacts on your contact list. Select which action you'd like to apply or, if you don't want to apply any of the three actions right now, tap "Done" to continue browsing the iTunes Store.
Installing Ring Tone-Making Apps
The official App Store for the iPhone has a number of downloadable ring tone-making apps designed to help you turn music and other audio into ring tones. To download one of these apps, open the App Store on your iPhone and browse or search for ring tone makers. Popular free options include Ringtone Maker, Ringtones for iPhone and Ringtones for iOS 8. Tap "Free" on the app's Details page to download and install it. If the app costs money, tap its price and proceed through the payment process. In all of these apps, you open a piece of music or an audio file and then select a section of it to use as a ring tone.
Viewing Tones and Syncing With iTunes
Downloaded and created tones are accessible through the Sounds section of your iPhone's Settings app. To view all available tones on the device and to assign them to specific notifications, open the Settings app and tap "Sounds."
If you connect your iPhone to iTunes on your computer, new tones are automatically synced onto the computer. You can also sync existing tones from your computer onto your iPhone.
Understanding Restrictions
You can't purchase ring tones on all iPhones. You need to be running iOS 5.0 or later on an iPhone 3GS or newer handset.