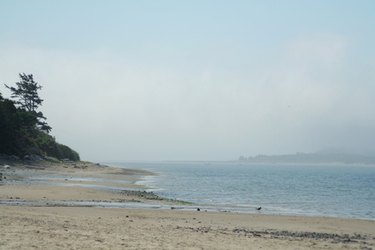 Most digital cameras store photos in the JPEG file format. This format compresses a photo slightly and is widely used in various applications, from the Internet to cell phones. You can find free software to edit your JPEG photos, such as Gimp and PhotoScape, as well as free online image editors like Online Image Editor and Phixr. Professional photographers and graphic designers use the commercial Adobe Photoshop program. With the help of the standard tools available in most photo editing programs, you can perform many basic editing tasks.
Step 1
Open the photo editing program. Click on "File," "Open" and choose the JPEG photo you would like to edit.
Step 2
Crop the image to get rid of any unnecessary background information. Use the "Crop" tool, which is usually found in the application's tool bar. Drag to select the area of the photo you wish to keep. Press "Enter" or click "OK" to confirm.
Step 3
Remove any red eyes caused by the flash in the photo. Most photo editing programs include a red-eye removal tool, found in the toolbar. The icon is usually shaped in the form of an eye. Click on this tool to select it, and drag your mouse over the affected eyes. The program will automatically remove the red eye. Press "CTRL+Z" to undo if you are not happy with the result, then retry.
Step 4
Adjust the brightness and contrast of the image. This edit will make the colors appear more vivid in your JPEG photo. Click on "Edit," select "Image Color" and choose "Brightness and Contrast." A menu will appear that enables you to increase or decrease the brightness and contrast, usually by dragging a slider with your mouse. The image will immediately change to reflect any changes. Click "OK" to save the changes.
Step 5
Click on "Edit," choose "Image Color" and select "Automatic Color Correction" if you believe the photo needs color changes. JPEG images produced by digital cameras will sometimes have a weird color cast caused by the specific lighting circumstances when the photo was taken.
Step 6
Manually color correct the photo if you are not happy with the results of the automatic color correction feature. Click on "Edit," choose "Image Color" and select individual colors under the "Levels" or "Color" menu. Increase or decrease one color at a time by dragging the slider, and check how it affects the image. Click "OK," or "Save Changes" for your changes to take affect permanently.
Step 7
Save your image. Click on "File," and choose "Save As." Give the image a new name, and click "Save." Never overwrite your original photo, as a JPEG image compresses itself every time it gets saved, resulting in quality loss. You might need to revert to your original image for high-quality prints.