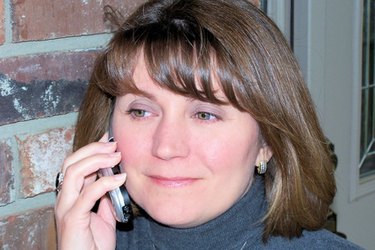 You received a call on your cell phone and were unable to answer it for an extended period of time. It may be that you just don't feel like picking up your phone at all. It would be convenient if the person who called was able to leave a voiced message on your voice mail detailing the reason for calling. On the contrary, you may be the type of person who does not think such a convenience would be worthwhile. Thankfully, you have several ways to control the voice-mail service on your Verizon Wireless network.
Enabling Your Voice Mail
Step 1
Call Verizon wireless and ask to speak to a representative. Ask the representative to enable the voice-mail feature.
Step 2
Go to the Verizon Wireless website and sign into "My Verizon" with your account information. Select the "My Plan" option, followed by the "Add/change feature." Doing so will allow you to confirm whether you have voice mail service. (This feature is usually included in your account when you activate your service.)
Step 3
Dial *86 on your Verizon phone and press SEND. If calling from a touch tone phone, enter your wireless number. You will then hear a greeting to which you should respond by pressing the # button. Follow the prompts to set up your voice mail.
Disabling Your Voice Mail
Step 1
Disable your voice mail by calling Verizon wireless and speaking to a representative. Tell the representative that you would like your voice mail service removed.
Step 2
Call your phone and leave yourself multiple lengthy voice-mail messages. You will eventually fill your voice mail's message capacity and your service will not allow anyone to leave you a message.
Step 3
Set up call forwarding and forward calls to a number that does not have voice-mail capabilities. A land line or other cellphone can accomplish this.