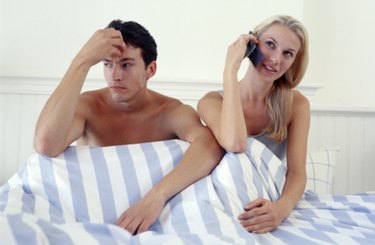 If you're busy for a few hours or just want a rest from the constant ringing of your cell phone, you can forward incoming calls to go straight to voicemail or to another phone number. Once you've set up the call forwarding option on your T-Mobile handset, all callers will get patched straight through to the alternative number you selected. Setup call forwarding on your T-Mobile cell phone from the handset's settings menu.
Step 1
Click or tap the "Menu" button on your phone handset or from the phone's home screen.
Step 2
Select "Settings" followed by "Call." On some handsets you might need to scroll through the settings to find the "Call" option.
Step 3
Tap or click "Call Forwarding."
Step 4
Select "Forward all Voice Calls," then select "Activate."
Step 5
Select "To Voice Mailbox" if you want to forward all calls to your voicemail service. If you'd prefer to forward calls to another phone number, select "To Other Number." Enter your preferred phone number into the input field, then select "OK."