Websites can make use of JavaScript to create menus, animations, sounds and other features to provide an interactive multimedia experience for users. The Firefox, Chrome and Safari Web browsers each require a different process to enable JavaScript on the Mac. After you enable JavaScript, you may need to restart your browser if the changes don't take effect immediately. By enabling JavaScript, you increase your Mac's vulnerability to threats including viruses and to outside parties that monitor your activity.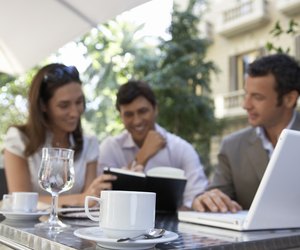 credit: Mike Watson Images/moodboard/Getty Images
Safari
Step
Launch Safari. Select the "Safari" menu and choose "Preferences."
Step
Access the "Security" tab.
Step
Check the "Enable JavaScript" box.
Chrome
Step
Launch Chrome. Select the "Chrome" menu and choose the "Preferences" option.
Step
Select the "Show Advanced Settings" option.
Step
Choose "Content Settings" located in the Privacy section.
Step
Click the "Allow All Sites to Run JavaScript (Recommended)" radio button in the JavaScript section.
Firefox
Step
Launch Firefox. Type "about:config" without the quotation marks into the address bar and press the "Return" key.
Step
Click the "I'll Be Careful, I Promise" button.
Step
Type "javascript.enabled" without the quotation marks into the Search field and press the "Return" key.
Step
Double-click the "javascript.enabled" option to toggle between a True and False value. Setting the value to True enables JavaScript.