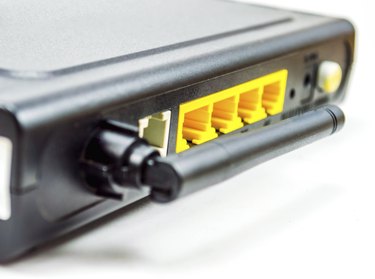 Using a virtual private network, you can securely connect to another computer over the Internet or a private network. These VPNs can be very useful in creating secure connections, but only if your router is configured to enable such networks. This is called VPN passthrough, and without this feature enabled, you can't connect to a VPN using that connection. However, most routers can be easily configured to enable VPN passthrough.
Step 1
Connect to the Internet using your local area network and launch your preferred Web browser.
Step 2
Enter the IP address of your router's administration program into the URL bar. In most cases, the IP address for this program is either 192.168.0.1 or 192.168.1.1, although this is not always the case. If neither of these addresses works, check your owner's manual for the exact IP address for your router.
Step 3
Enter the administrator ID and password when prompted by the administration program.
Step 4
Access the router's security configuration options. These options will be under a tab or heading marked "Security."
Step 5
Select the option to enable "PPTP Passthrough." PPTP stands for Point-to-Point Tunneling Protocol, the standard protocol for implementing VPNs and VPN connections.
Step 6
Access the port forwarding options from the administrative program and enable port forwarding for PPTP on port 1723. The exact process for enabling port forwarding varies from one manufacturer to the next. Consult your owner's manual for specific instructions on port forwarding.
Step 7
Press the Windows key and type VPN in the search bar, then select the Settings category.
Step 8
Select "Set up a virtual private network (VPN) connection."
Step 9
Enter the VPN's Internet address in the "Internet address" field, and the name of the VPN in the "Destination name" field. Make sure the "Remember my credentials" box is checked, then click "Create."
Step 10
Select the VPN and click "Connect" from the Networks pane. If you've configured passthrough correctly, you'll be prompted to supply your username and password for the VPN.