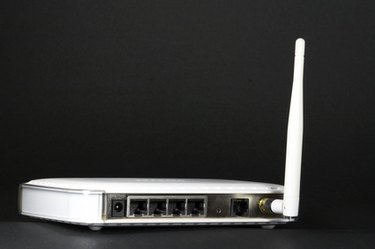 If you're using a NETGEAR wireless router, encrypting the wireless signal will help keep unwanted computers off your network. An encrypted wireless network requires all computers that want to use the network to enter a security key "passphrase" for access. If you're a network administrator, or if you need to give the passphrase to somebody so that they can sign onto your home wireless network, you can find the security key in your router's configuration area. Your computer needs to be connected to the router's network, and you will need the administrator login information to access the security information of your NETGEAR router.
Step 1
Connect your computer to your router's network. If you cannot connect through the wireless connection, use an Ethernet cable to connect your computer to the router.
Step 2
Open an Internet browser and navigate to your router's dashboard. If you're connected to your NETGEAR router, it will prompt you for a username and password. Enter the administrative username and password you created when you first set up your router.
Step 3
Select "Setup" from the router's navigation menu. Click on the "Wireless Settings" link.
Step 4
Copy the text in the text box labeled "Passphrase." The passphrase is your router's security key. The passphrase is listed under the "Security Options" section of the "Wireless Settings" page.
Step 5
Give the passphrase to any user you want to allow onto your wireless network.