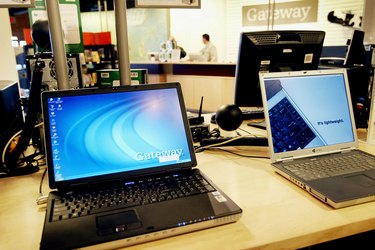 The wireless feature on a Gateway computer allows you to connect to a network without the hassle of cables. This allows you to browse the Internet conveniently wherever you are. Gateway computers rely on Windows operating systems, which come with a built-in feature to manage your wireless connection. This feature makes turning off your wireless connection an easy process if, for a moment, you prefer to connect to the Internet using a wired connection.
Step 1
Click the Windows "Start" menu and click the "Control Panel."
Step 2
Click Network and Internet Connections > Network Connection, if you are using a Windows XP Gateway computer. You should see your wireless connection. For Windows Vista and 7 Gateway computers, click "Network and Sharing Center" from the Control Panel and click "Manage Wireless Connections." You should see your wireless connection.
Step 3
Right-click your wireless connection and click "Disable" to turn it off. Close "Network Connections" when you are done.